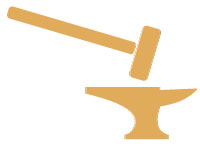 Why Platinum?
Better "Why not Platinum?"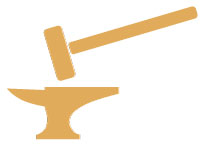 For Platinum stand countless properties that make this metal so desirable:
Its incomparable colour:
White and not white, a mysterious dark glimmer surrounds Platinum like an aura and draws attention to itself.
Its imperishability:
no natural acid can attack it let alone dissolve it,
no natural flame can melt it,
no staining even in the alloyed state.
Almost no wear (due to its high tenacity/ductility and hardness at the same time) even if worn daily, platinum jewelry does not lose weight ... it's "forever".
Its purity:
Due to the above-mentioned properties platinum doesn't need to be alloyed down like Gold is. 4-5 % filler metal is enough (960 or 950 platinum) the character of the platinum is thus very little distorted.
Its rareness:
Platinum is about 30 times rarer than gold and is very difficult to win because it is resistant against nearly all chemicals.
Its weight:
How can something so small be so hard?! Platinum has a density of 21.45g/cc, the third heaviest of all metals. The second heaviest, how could it be otherwise, osmium and iridium ... are both miner products of platinum extraction. Even the radioactive heavy metals must admit defeat.
A cube of 16 cm edge length weighs about as much as an adult male, 88 kg!
This results in a high wear comfort of the wedding ring (or jewelry); perceptible but not annoying, always wears the reminiscent of the "second" ...
Its compatibility:
Its absolutely free of allergens, so no skin reactions are possible.
There is much to tell, however the most has no direct relevance to the wearing of jewelry, but for the production:

extremely low thermal expansion
not hot short (contrary to gold and silver)
very poor conductor of heat and therefore weldable! (ever held 1700°C without a glove? Only 2 cm away from the fingers ... )
etc.
Other uses:
Laboratory equipment for medicine and chemistry.
Electrical engineering; wires, contacts, anodes for electroplating baths ...
Gauges (the primal-kilo and primal-meter consist of the Pt/Ir)
Catalysts in the chemical industry.
Highly abrasion- resistant spinnerets for the production of synthetic fibers.
Main component of medical devices, such as pacemakers.
and much more ...
"Against" Platinum
actually speaks only one thing: its high price, but here we can make you a more than fair offer!
Alloy
Melting range / °C
Hardness - HV*
Density g/cm³
Pt 1000
1796
40-60
21,45
Pt/W950**
1840-1860
155- 310
20,9
Pt/Cu 960
1730-1745
120- 160
20,3
Au 1000
1063
18,5- 25
19,3
GG 750
892-905
120- 170
15,4
WG/Pd 750
1272-1280
100- 180
16,6
GG 585
833-857
129- 150
13,7
Ag 925
799-896
78- 120
10,3
*annealed - mechanical. deformed

**Our Alloy
Hystory:

Platinum is a relatively "new" precious metal, because of it's high melting point of 1774 °C. it can't be melted by natural fire. Only the development of pure oxygen in 1772 reached a sufficient flame temperature. However, the history of the noblest among the precious metals reaches into the 3rd millennium before Christ ... The Egyptians incorporated smallest quantities in jewelry, but probably took it for silver. End of the 16th century, the French chemist Lavoisier tried to melt platinum with a burning glass. It had a focal length of 3 meters and a lens diameter of 1.2 m, but he had no success.
In the 17th century people paid more attention for the first time to platinum. It was in the Spanish colonies such as was Ecuador, but in a negative sense. Since platinum almost has the same density as gold (Pt: 21.45g/cc to Au: 19.3g/cm³) they used it to "stretch " the core in gold coins. The Spanish government sank substantial amounts of platinum in the sea to stop these practices.
From this time the name platinum comes which means "little silver" because they just couldn't do anything with it. Some diggers even threw it back into the rivers so it could mature because they thought it was unfinished gold because of its high density and color.
In 1751, Platinum finally was classified as a precious metal. Around 1780 Louis XVI., decreed the King of France, that only the king could own platinum. In 1795, the primal-meter and the primal-kilogram were made of a platinum-iridium alloy, because it is perfect due to its characteristics (see above). 1856, the first platinum melt based on oxyhydrogen was created. This made the processing of platinum in "larger" quantities possible. In the following decades, platinum took a triumphant march through the nobility and royalty. Among other things, the two largest diamonds in the world were set in platinum, Cullinan I in the scepter and Cullinan II in the crown of Elizabeth Bowes-Lyon (The mother of Queen Elizabeth II.).